SALE!! Enjoy Upto 40% Off On Our Sale Section
SALE!! Enjoy Upto 40% Off On Our Sale Section
New Release! Checkout Our New Arrival Collections Starts From Just $20
New Release! Checkout Our New Arrival Collections Starts From Just $20
Shop Our Women's Best Sellers Collection Starting From $18
Shop Our Women's Best Sellers Collection Starting From $18
Checkout Our Men's Best Sellers Collection Starting As Low As $15
Checkout Our Men's Best Sellers Collection Starting As Low As $15
Get Free Standard Shipping On All Orders Over $200+
Get Free Standard Shipping On All Orders Over $200+
It all started by selling imported shoes from a trunk. Now Swoosh builds the fastest running shoes on the planet.
The company that would become one of the biggest names in sports all began with a University of Oregon runner selling imported shoes from the back of his car. Phil Knight started Blue Ribbon Sports in 1962 to sell Onitsuka (later known as Asics) shoes in the U.S., and by 1964 his former coach Bill Bowerman had joined him. The pair began experimenting with new running shoe designs, and that itch to push the envelope has been a Nike hallmark ever since. Now a global behemoth, Nike maintains its strong commitment to creating shoes that help runners go faster and farther.
Early successes helped the company (which changed its name to Nike in 1978) establish itself among runners. In 1972, Knight and Bowerman released the Cortez, one of Nike's most iconic shoes. Designed to be lighter and more water-resistant than other sneakers, the Cortez gained a following for its full-length cushioned EVA midsole, a new feature that gave runners unprecedented comfort. Another notable Nike invention of this era was the Air Sole design, which featured an air-filled bag in the midsole to absorb shock. It debuted on the Air Tailwind shoe in 1978, but Nike continued to refine the design and released Zoom Air cushioning in 1995. This technology continues in the Air Zoom shoes of today.
Many Nike shoes utilize a Flyknit upper construction, where a lightweight yarn is woven tightly in some areas of the shoe and loosely in others. The loose weave allows the shoe to flex with your foot for greater comfort, and the tight weave provides support in key areas where you need it. More recently, Nike debuted the AtomKnit material on the Alphafly Next%. It's made by stretching and steaming Flyknit fabric, resulting in an even lighter upper. There's also Vaporweave, a blend of TPU and nylon that's lighter than Flyknit and also doesn't absorb moisture, so rain and sweat won't weigh it down.
Nike does its chemistry in-house, and its foams are the products of years of experimentation. One early success was Lunarlon, a blend of EVA and bouncy nitrile rubber that debuted in the Luna racer in 2008 and won a following for its springy, responsive feel. Nike honed this formula in its newer React foam to maximize cushioning, energy return, and durability while maintaining a low weight. ZoomX, made from blown Pebax, is Nike's most energetic foam and used in shoes like the Vaporfly, Alphafly, and Vomero 16. Currently the fastest shoe in Nike's lineup, the Alphafly can deliver as much as 85 percent energy return; Eliud Kipchoge wore a prototype of the shoe for his historic sub-two-hour marathon in October 2019.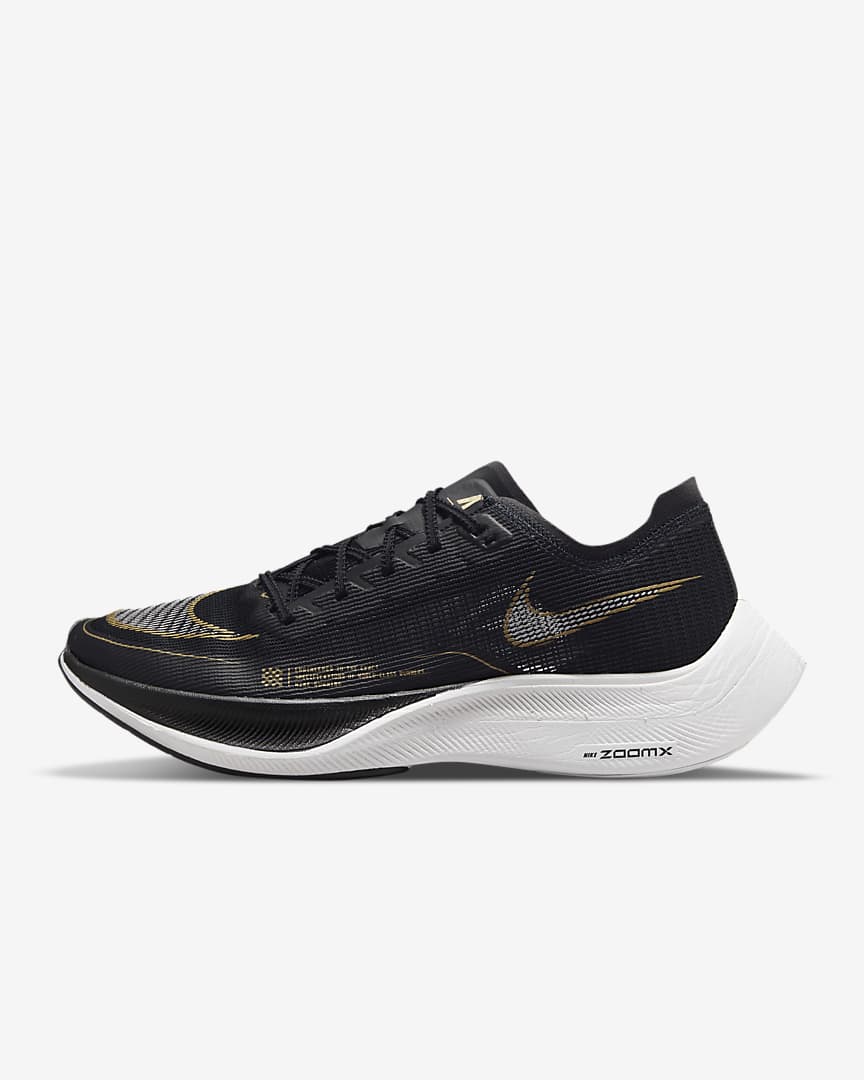 Slotted just below the top-tier Alphafly in Nike's lineup, the Vaporfly is a capable performer for race days. Designed for 10Ks up to a marathon, it combines a ZoomX foam midsole with a full-length carbon fiber plate for a lightweight, exceptionally responsive ride that's suited for speed. Nike swapped in a new upper with mesh panels for improved breathability, and the offset laces keep pressure off the top of your foot for a comfortable ride—even when you get into double-digit mileage. Our final kudos: The latest iteration of this speedster now comes in women's-specific sizes.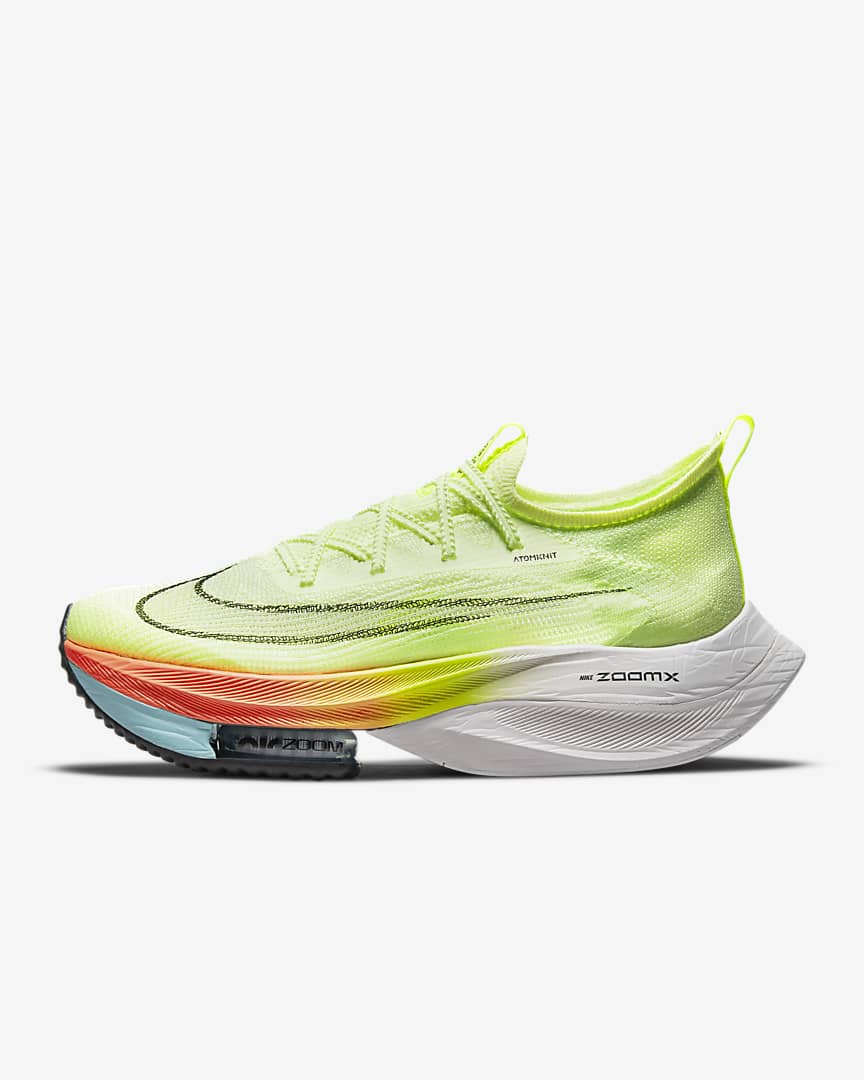 The latest in Nike's quest to build the fastest shoes on earth, the Alphafly is the production version of what Eliud Kipchoge wore when he broke the two-hour marathon record in Vienna in 2019. With this shoe, Nike threw in everything but the kitchen sink: two Zoom Air units in the forefoot, even more ZoomX foam in the heel, a full-length carbon fiber plate that varies in thickness depending on shoe size, and a new ultralight upper material called AtomKnit. What does all that tech do? For Kipchoge, at least, it enables record-breaking speed.
In late 2021, Nike also released the Alphafly Next Nature, a new version that utilizes scrap materials, including leftover ZoomX foam, in the upper and sockliner. According to Nike, the shoe is made of at least 50 percent recycled content by weight. One downside: It's heavier than the regular Alphafly.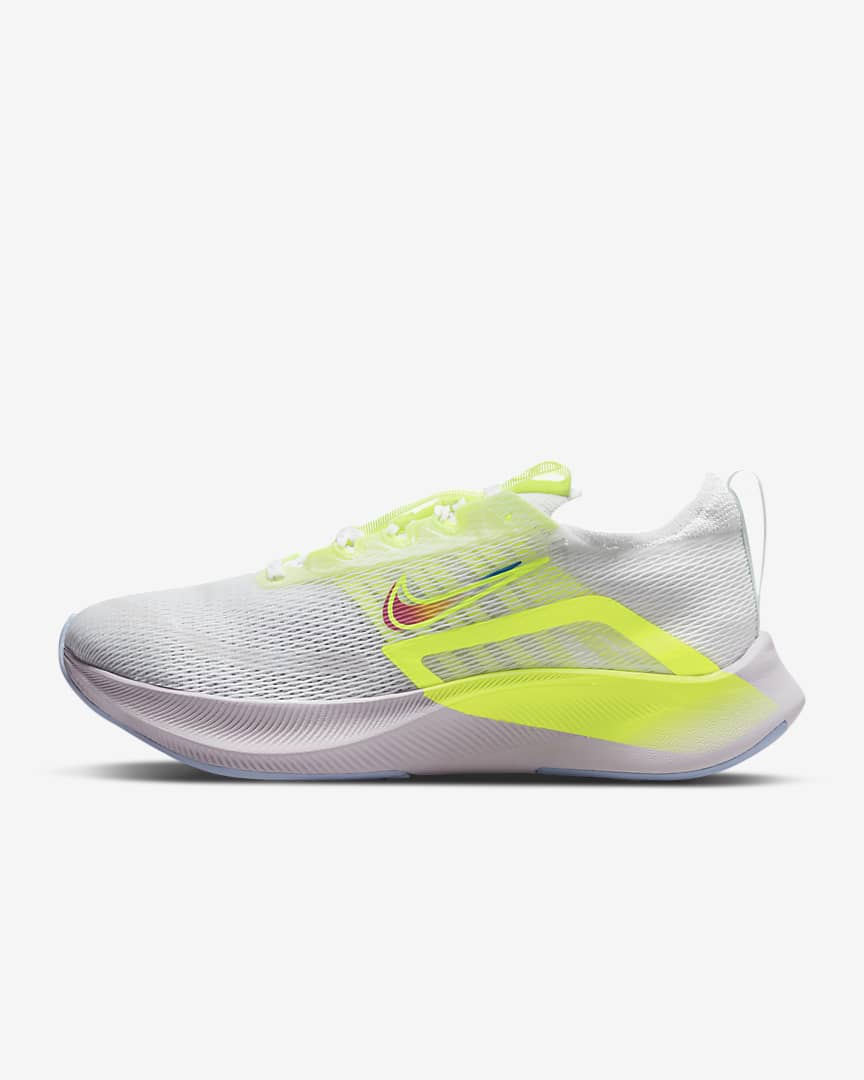 The Zoom Fly is the bulk training counterpart to the speedier racing shoes like the Vaporfly and Alpha fly. Despite having a carbon plate which aids in speedy turnover and increases energy return, it is more cushioned than most racing shoes which allows it to hold up during training. It has a sock-like fit which allows it to easily slide on and off, and it has flex in the midfoot which allows for a natural foot movement.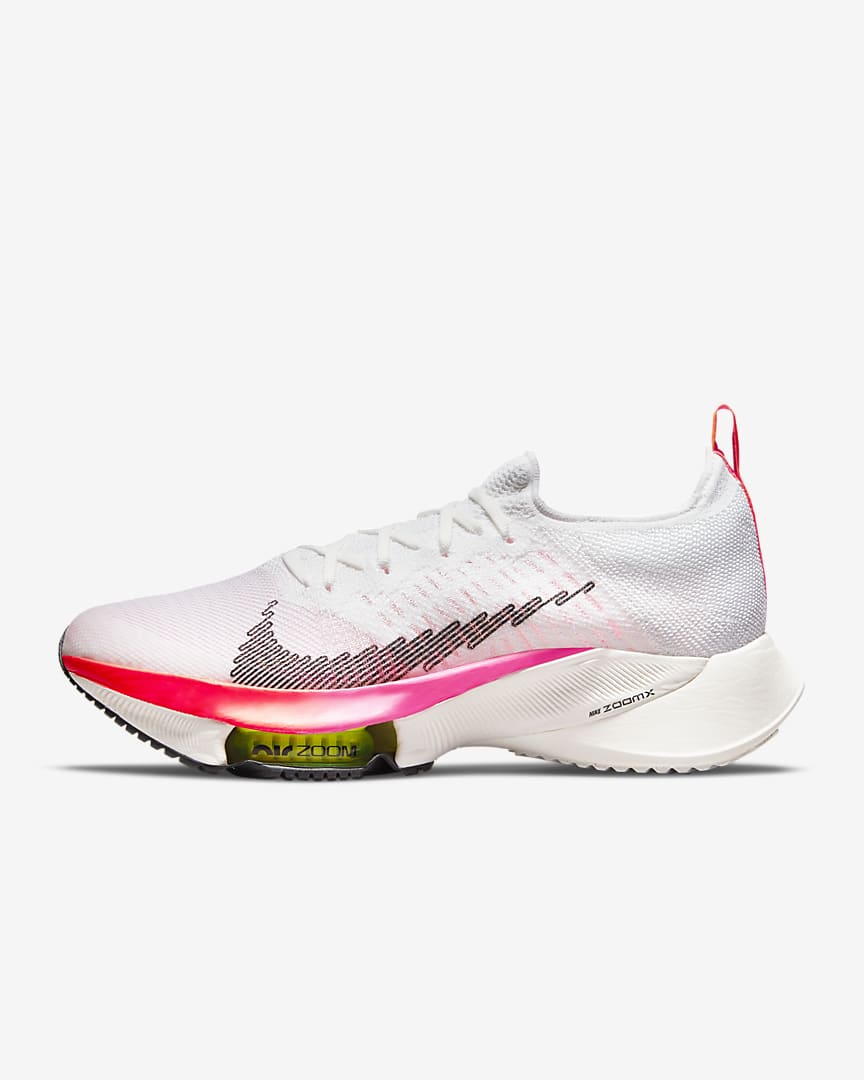 The Tempo Next% replaces Nike's Zoom Pegasus Turbo 2 and serves as the training counterpart to the Alphafly Next%. It uses similar tech, like bouncy ZoomX foam and Air Zoom units in the forefoot, for a speedy feel, but it's tuned for the rigors of daily training runs instead of racing. In place of the stiff, snappy carbon fiber plate found in the Alphafly, the Tempo uses a more forgiving composite plate for increased comfort and stability underfoot. Other tweaks—like a wedge of React foam in the heel and more rubber on the outsole—increase the Tempo's durability, so you can rack up high mileage without tearing the shoe apart.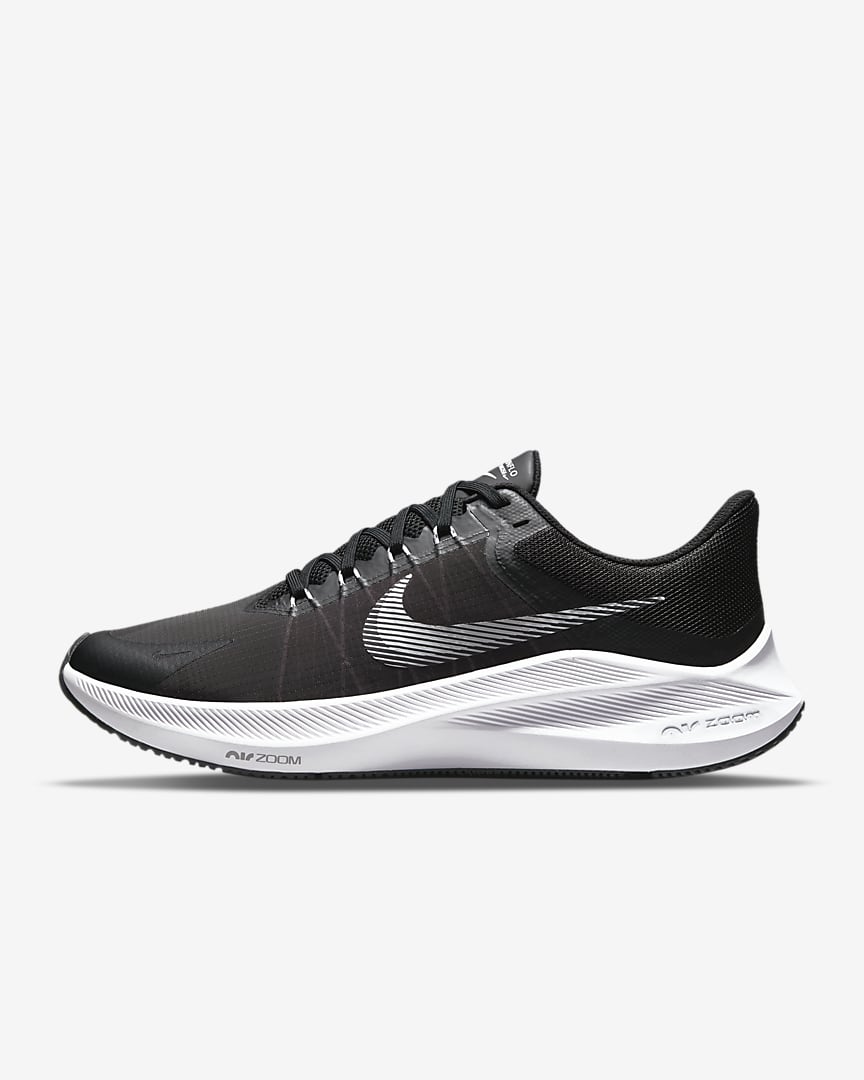 If you're looking to spend under $100 on a pair of running shoes, consider the Air Zoom Winflo 8. Our testers praised previous versions for offering the total package while sticking within a tight budget. The shoe sports the Peg-like pointed heel as well as soft Cushlon foam and responsive Zoom Air units in the midsole, and it offers a smooth ride despite not using Nike's more premium, bouncy React or ZoomX midsole foams. Plus, a breathable mesh throughout the forefoot and Flywire cables in the lacing provide a more secure and snug fit for improved support.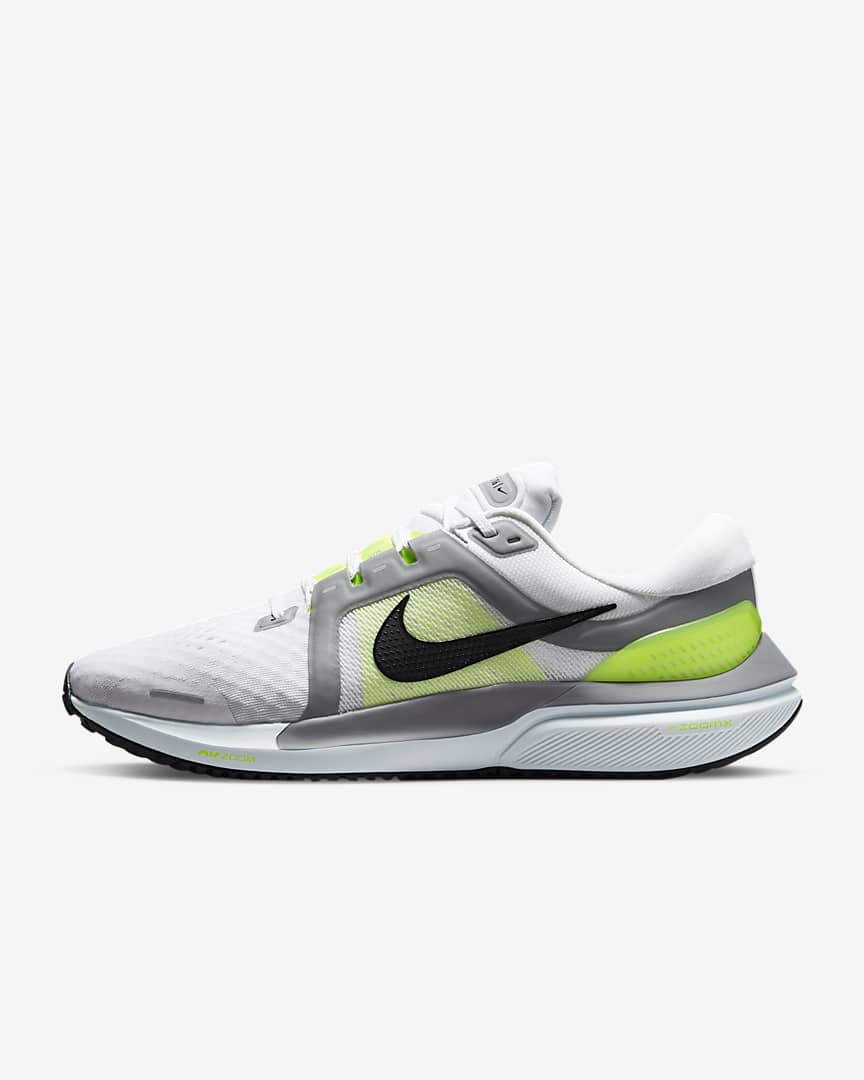 The Vomero is Nike's max-cushioned offering, and the sixteenth version has been totally revamped by adding the responsive ZoomX foam cushioning. It still remains lightweight with a breathable upper. Plus, the midfoot band is adjustable and a stable clip at the heel ensures extra security.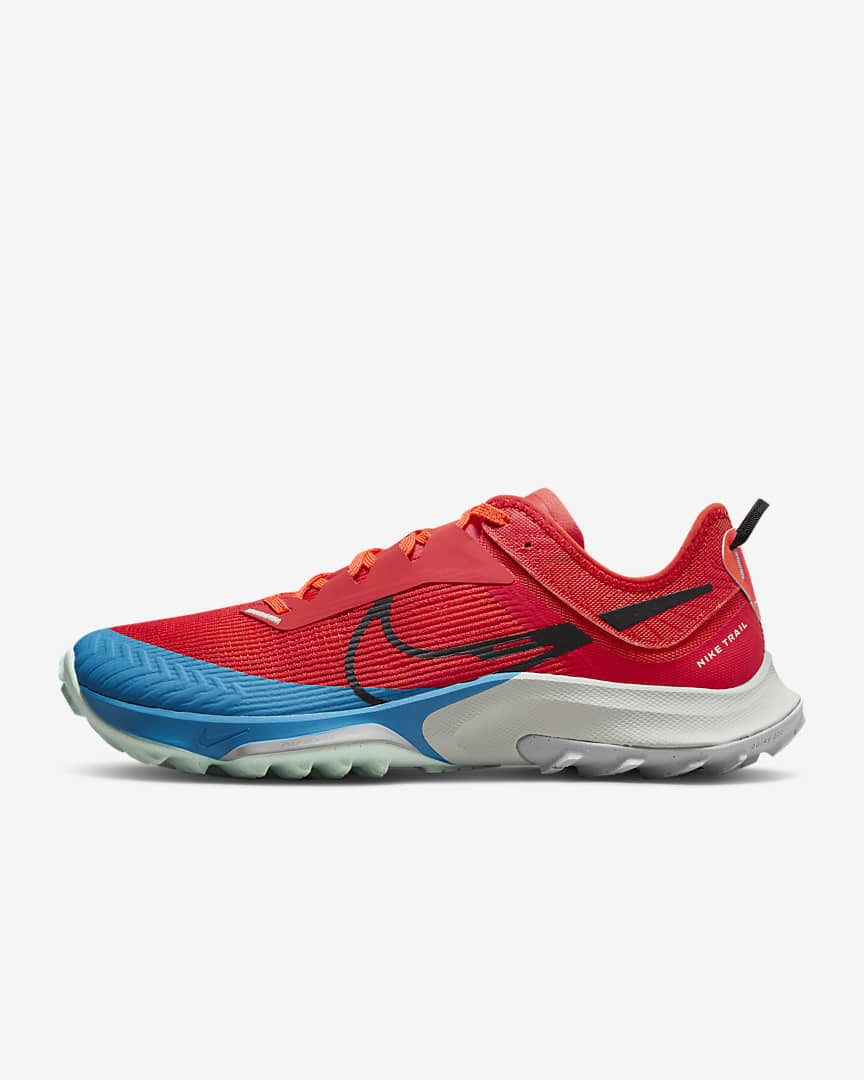 The Terra Kiger is Nike's top-of-the-line trail shoe, and it's a great pick for tearing up singletrack and shorter runs on rocky trails. The latest version adds improved grip with multi-directional rubber lugs, though it's still better suited to dry terrain. Otherwise, it includes the same highlights as the previous versions—including a rock plate, a padded tongue, and snug midfoot lacing for a comfortable fit—and a combo of React foam and a Zoom Air unit in the heel for good responsiveness. Cushioning-wise, it's both lighter and leaner than the Wildhorse below, which gives the Kiger an edge for up-tempo efforts and racing.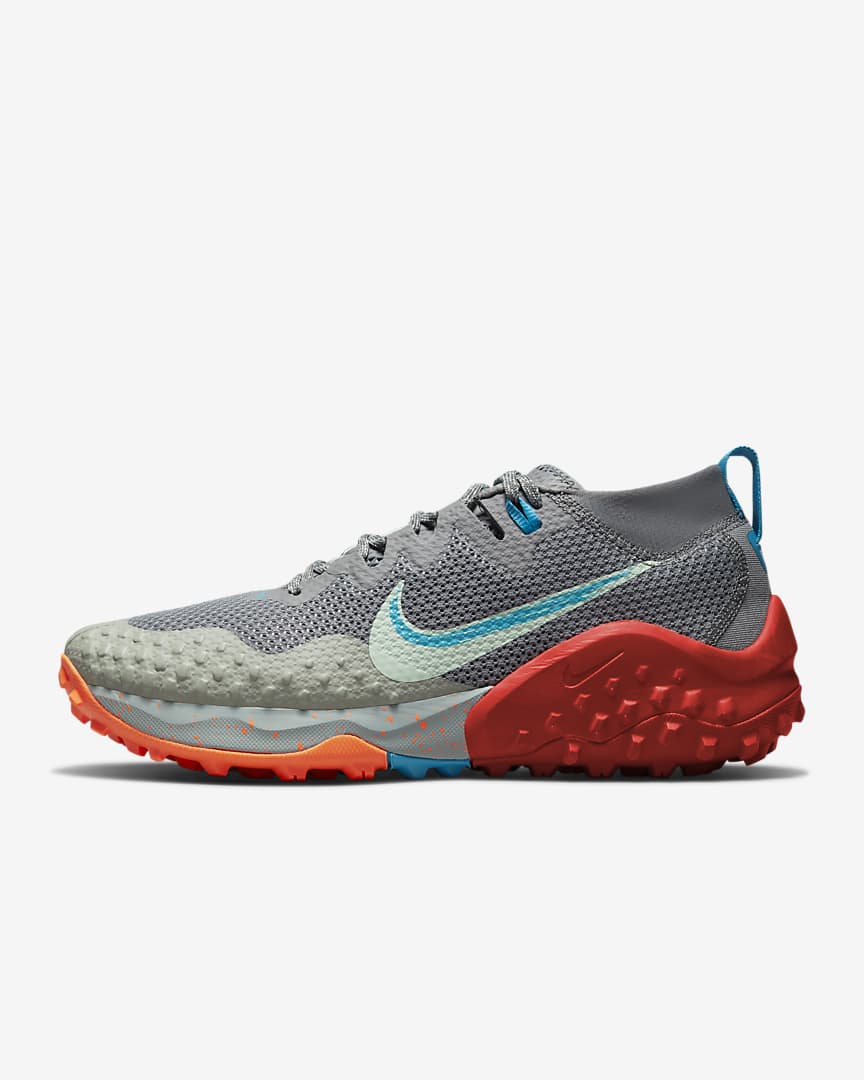 The Wildhorse has proven itself a capable performer through all kinds of off-road conditions. In this version, Nike swapped in React foam for a more responsive ride, added a softer ring of cushioning beneath the heel, and totally redesigned the outsole. The forefoot and heel feature abrasion-resistant rubber for good durability, whereas the midfoot is covered in sticky rubber for solid grip in wet trails and mud. Beyond that, a mesh panel at the forefoot helps these shoes breathe well. Overall, the plusher cushioning and thicker midsole make the Wildhorse a reliable, comfy option for running long and easy.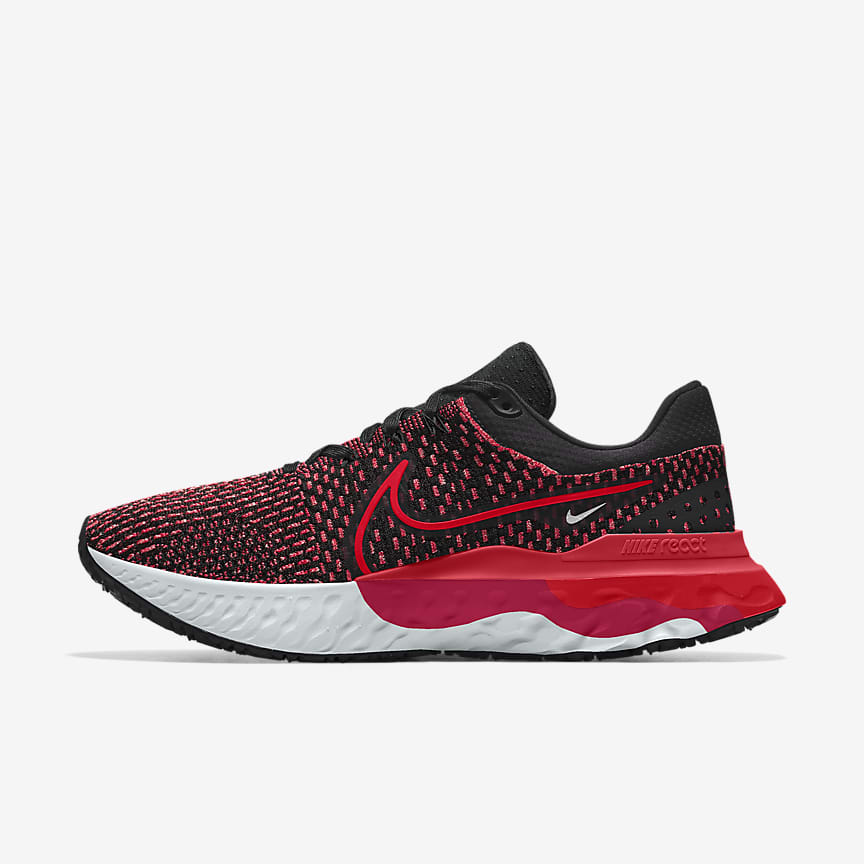 The new trend in stability shoes is less interference, and the Infinity Run adheres to that principle by providing comfort, support, and a smooth ride without impeding your natural movement. Its generous React midsole has a soft step-in feel but firm response, and the rocker-shaped sole promotes a smooth stride. Guide rails along the heel and new Flywire cables at the eyelets combine for a secure, stable feel. Most testers loved it, and according to Nike, the Infinity Run 2 reduced the occurrence of injuries.
The pair began experimenting with new running shoe designs, and that itch to push the envelope has been a Nike hallmark ever since. Now a global behemoth, Nike maintains its strong commitment to creating shoes that help runners go faster and farther.